Shere Khan is an anta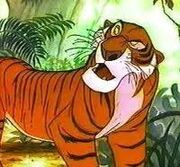 gonistic tiger from Walt Disney's 1967 film, The Jungle Book. He is based on the character created by Rudyard Kipling.
Shere Khan despises humans and wants nothing more than to kill any of them that sets foot in the jungle. He aimed to kill the man-cub, Mowgli, in order to prevent him from growing up to become a man holding a gun.
It is revealed that he was once friends with Baloo and Bagheera, as well as the other inhabitants of the jungle, when he was a cub, although how that friendship ended is never explained.
Unlike in the original novel where he is lame on one leg, the Disney version shows that he is doing fine on all four of them.
If there is anything Khan fears is fire and guns.
In "Fear of Evil" when Ethan began to have nightmares and had caused Ethan to become truely afraid. After Ethan was able to overcome his fear Aqua stopped him from making his mistake.