Johnny Blaze/Ghost Rider is a character from Marvel comics. He is motorcycle stuntman who sold his soul to the demon, Mephisto, in order to save his father from dying of cancer. Unfortunately, Blaze's father died in an accident during a show. Johnny became Mephisto's personal bounty hunter in accordance to their pact. The demon bound Johnny's lifeforce to the dark entity named Zarathos. As a result, whenever Johnny is at the presence of evil, he will turn into a popularly known blazing skull headed being,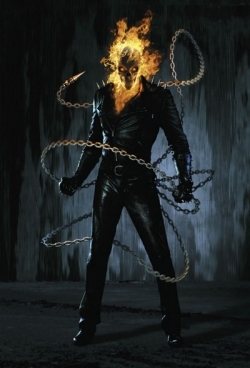 riding his flaming motorcycle in the form of the Spirit of Vengeance.
In the Ultimate Defender episode, "Demona's Revenge", Ethan had Batman call an "old friend" while some of the Defenders are kidnapped by the vengeful Gargoyle, Demona and the former Fire Nation princess, Azula. During the battle with both, Ghost Rider shows up and fights off Azula. He was later seen taking one of the weird sisters on a date.